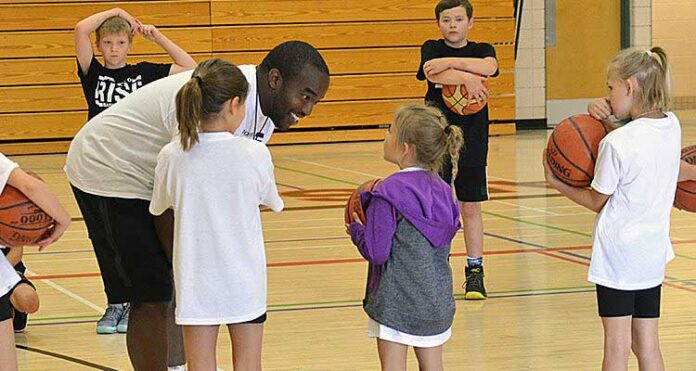 by Phil Ambroziak
Basketball players of all ages were recently given the opportunity to rise above the competition.
The fourth annual Rise Above basketball camp – hosted by former Meadow Lake teacher Navanga Burke – took place Tuesday to Thursday this week and, once again, proved extremely popular amongst the youth who took part.
"The camp is my way of teaching the kids how to play basketball – my way of giving back," Burke explained. "I started it four years ago and, even though I'm not here anymore, I decided to continue the tradition."
Burke, who in recent years taught Grade 5 at Gateway Elementary School and coached the Carpenter High School boys basketball team, will now be teaching at Athol Murray College of Notre Dame in Wilcox, SK.
"This is our second camp this summer – we did one in Prince Albert in July, and this is the one we regularly do here," Burke continued. "The morning session is for Grades 1-6, while the afternoon sessions is for Grades 7-12 athletes."
Burke went on to say, for the younger participants, it's all about learning the basics of the sport and having fun.
"It's more fun and games and getting used to taking direction – having coaches tell them what to do and kind of a way for them to learn the basics about how to play," he said. "Today we focused on ball handling and passing, while the remaining sessions will involve shooting and a little defence before playing a few games."
The older athletes, Burke added, primarily use the camp as a way of improving their game before the upcoming junior high and high school basketball seasons.
"There's also some new participants as well, so it's a combination of newcomers and experienced players," he noted. "At night, there's a group of kids who come back from about 8:30 to 10 p.m. They come back strictly to train with my brothers and I."
Two of Burke's brothers – Irshaad and Kamar – have been assisting him with the camp. Kamar lives in Kelowna, B.C. and played university basketball alongside Burke, while Irshaad, their younger brother, currently plays Division 1 basketball in Texas.
"It means a lot to have them here because I don't get to see them often," Burke said. "This is a great way for me to connect with them. We can talk, check in on how one another is doing, and we get to play a little hoops while we're coaching."
Burke also said it's important for him to share his love and passion for basketball with others.
"When I was younger, I had the opportunity to learn how to play from my high school coach and from people in the community," he said. "My brothers and I felt this is a great way to give back and, at least during my time here, I can provide some skill development to kids who really want to play or to those who just want to have fun."
As for the CHS boys basketball team, Burke said Jesse Shakotko and Kendra Paramchuk will take over coaching duties this fall.