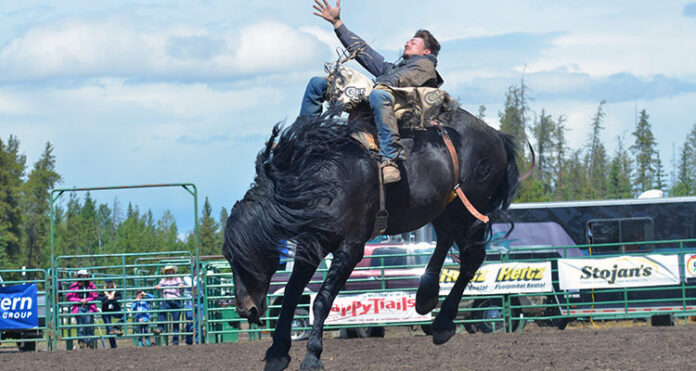 by Phil Ambroziak
Meadow Lake's Colton Ouellette is a champion.
After three years of competing in the Lakeland Rodeo Association, Ouellette captured his first LRA title on the weekend when he came out on top in the bareback riding event during the LRA Showdown Finals in St. Paul, AB.
"I was lucky enough to have some good draws, to win three go-rounds of my five rides and to place in the other two, which was enough for me to win the championship," Ouellette said. "It's a title I've been trying to win the last three years, and it was such a good feeling to finally win it."
On Day 1, Ouellette scored 70.5 and placed third. He improved on Day 2, with a score of 74 and a first-place finish. He was third again on Day 3 with a score of 66, while Days 4 and 5 saw him again win first with respective scores of 70.75 and 73.75.
"I had a lot of support throughout the season and into the finals," Ouellette continued. "There may have even been a few tears shed along the way, but everyone was so happy about my win. I think I received the loudest reaction during the victory lap, so, yeah, I had a lot of support."
Another local competitor to attend the LRA Showdown Finals was Meadow Lake's Tyler Wilson. He also competed in the bareback event where he placed second on Day 1 with a 71.5 score. However, he failed to place for the remainder of the competition. Wilson also competed in the saddle bronc event, though, where he was bucked off on Day 1, but finished fourth on Day 2 with a score of 69.75, first on Day 3 with a 70.75 and fourth on Day 5 with a score of 66.75 after being bucked off on Day 4.
Meanwhile, another Meadow Lake cowboy to compete in St. Paul was Arlan Lumgair who had one successful ride in the junior bull riding event. On Day 3, Lumgair scored 72.25 for first place, but was bucked off on all the other nights. In the junior steer riding event, Ouellette's younger brother, Rigan, finished second overall having made the whistle all five performances. On Day 1, he was third with a score of 67.25, on Day 2 he was fourth with a score of 68.25, on Day 3 he was second with a score of 69.5, on Day 4 he was third with a score of 68 and on Day 5 he was fourth with another score of 68.
As for Colton Ouellette, he said his career has come a long way since he started riding steer in 2011.
"The following year is when I got into bareback riding and I haven't looked back since," he said.
Ouellette also said the season isn't quite over just yet.
"I have a few more pro rodeos left," he said. "Currently, I'm the season leader in the Canadian Professional Rodeo Association (CPRA), while the Wildrose Rodeo Association (WRA) has its finals coming up Sept. 14. It's been a great year and I couldn't have done what I have without the support of my friends, family and sponsors."