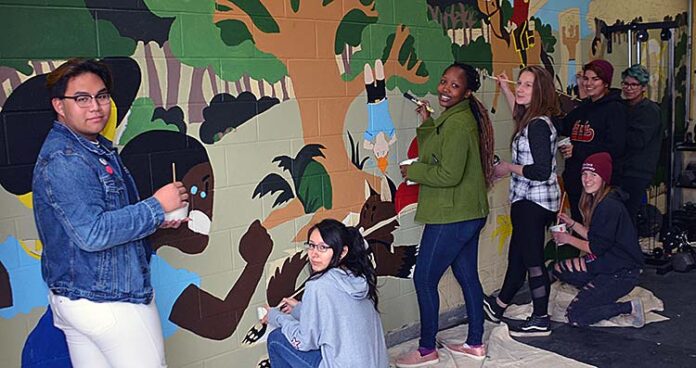 by Phil Ambroziak
The Meadow Lake RCMP is using art to build relationships.
Recently, a group of students from Carpenter High School's visual arts class began work on a mural at the local RCMP detachment. The police approached the school to do the work, not only as a way of sprucing up the RCMP's exercise room, but also as a way of getting to know students and staff at CHS in a less-than-typical school-police scenario.
"I heard about a project like this that was done at the RCMP detachment in Fort Qu'appelle – I actually heard about it from our staff sergeant (S/Sgt. Tim Sartison) who said it went very well down there, so I felt it was important to get some of the youth in this community involved in something similar," explained Cst. Jason Klink, the RCMP member who approached CHS about creating the mural. "It not only gives us something nice to look at while we're working out, but allows us to build relationships with the students. Young people are part of our community just like everyone else, so it's good to engage with them and allow them to see police officers as everyday people who are also part of the community. I believe it helps eliminate the stigma we're only here to deal with bad people."
The mural itself depicts RCMP members participating in physical activities in an outdoor Canadian environment, and Klink said it's looking great so far.
"I appreciate the CHS staff for allowing this to happen," he said. "We're all very excited about it."
According to CHS visual arts teacher Jodine Wiebe, the mural is 10 feet high and 24 feet long and was designed by a core group of artists including Grade 11 student Nikkole Dion-McGilvery and Grade 12 students Eden Morewood, Courtney Munroe and Kayleen Oftedal.
"We're about two weeks into it," Wiebe said. "The theme of the piece is 'fit for duty, fit for life' and, after planning it out on paper, we transferred it to the wall of the detachment's exercise room using transparencies and a Sharpie. Now we have five more students – Christian De Jesus, Kecia Gladue, Brenda Isimbi, Ashley Toews and Megan Kahpeepatow – doing the actual painting. I'd say we're about 67 per cent done. Hopefully we'll have it finished by this weekend."
Wiebe said it was a surprise to receive such a unique request from the RCMP, but added her students were more than happy to oblige.
"We have a strong visual arts program at CHS – the quality of artists at our school is exceptional," she noted. "The kids working on this particular project are no exception and have really taken on a leadership role when it comes to the mural. They are really shining with this project."