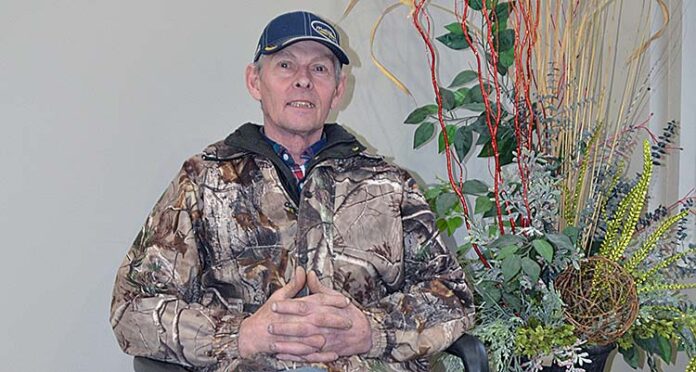 by Phil Ambroziak
Russ Jones must be doing something right.
Following the recent RM elections held throughout the province, the Division II councillor for Meadow Lake once again went unopposed to retain his seat, a position he's now held for more than a quarter-century.
"I just keep working hard to represent the people," Jones told Northern Pride about why he feels ratepayers are apparently happy with how he continues to represent them. "I bring their concerns to a head at council meetings or to the attention of our public works manager, and things get taken care of. I've also never built a road to my place – I have no hidden agendas when it comes to the municipality, while I also sit on a couple provincial boards in an effort to represent the Northwest at that level as well."
Jones – a farm machinery technician by trade – went on to note the importance of truly being there for the people he represents no matter the situation.
"When it comes to emergencies, I'll be on the scene," he added. "I've been known to stay up until 4 a.m. watching the level of the creeks during spring runoff season, and I will be the first one to knock on ratepayers' doors to warn them of a flood or a fire. It's just part of the job."
Jones was first elected to RM of Meadow Lake council in 1992. He was the successful candidate against four other hopefuls that year, but since then no other candidates have come forward to run against him. This was the case again this fall, meaning – when his current term is done, Jones will have served as Division II councillor for 30 years straight. As for the RM election itself, council will remain status quo for the next couple of years as the Oct. 24 vote saw Division IV councillor Garry Ratke re-elected to a second term earning 97 votes to Judy Larson's 38. Meanwhile, Division VI councillor Ernie Schwartz also retained his seat, earning 62 votes over former RM reeve Roger Zuchotzki who gained 38 votes.
Meanwhile, in the RM of Loon Lake, Ron Loehndorf was acclaimed in Division II and Larry Lantz was acclaimed in Division VI, while Division IV councillor Ervin Malanchuk was re-elected by earning 61 votes over Trent Langton's 56. In the RM of Beaver River, Brent Bender was acclaimed in Division II and incumbent Les Kruchkowski was acclaimed in Division VI. In Division IV, Wayne Rewega was the successful candidate earning 58 votes to Kevin Turchyn's 22 and Dale Laursen's seven.