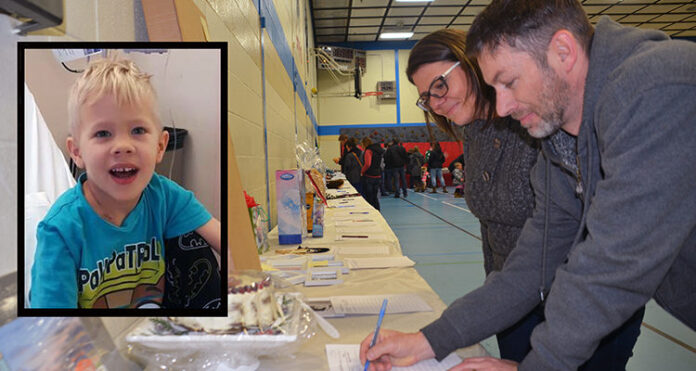 by Phil Ambroziak
Meadow Lake's reputation as a community that cares continues to hold true.
Hundreds gathered at Gateway Elementary School Tuesday evening (Dec. 4) for a special fundraising event in support of the family of Eli Vidal, a four-year-old boy recently diagnosed with a rare form of lung cancer. While the total amount raised through donations, a silent auction, dessert auction and various other initiatives was unavailable by this week's news deadline, all proceeds will go to the Vidal family to assist with travel costs and other related expenses.
"We've supported fundraisers like this in the past, so it definitely feels weird to be on the receiving end," remarked Eli's father, Brad Vidal. "We are blessed to live in such a great community and to be surrounded by such amazing people."
Eli's ordeal began a few months ago when he began experiencing shortness of breath.
"He wasn't breathing properly and he wasn't being as active as he normally should have been – he's four years old and has always been a fairly active kid," Vidal explained. "At first we just assumed it was some sort of bacterial thing. He was put on antibiotics, but when those didn't work we took him back to the hospital. They did an X-ray and the pictures showed about 90 per cent of the right side of his chest was clouded. The tumour was even pushing his heart over and against his left lung."
Eli was flown to Saskatoon Sept. 25 and, on Oct. 11, had surgery to remove a large tumour from his chest.
"A couple weeks after returning home, we received a call from the cancer clinic informing us it was a type of cancer called pleuropulmonary blastoma or PPB," Vidal said.
PPB is a rare cancer originating in the lung or pleural cavity. It occurs most often in infants and young children, but has also been reported in adults.
"It's so rare, it's probably safe to say Eli may be the only child in Canada who was diagnosed with PPB this year," Vidal continued.
Eli then had to undergo a series of more scans and, about a week-and-a-half later, started chemotherapy. On Nov. 25, however, he was flown back to Saskatoon because he was again having trouble breathing.
"That's when they found a significant amount of the tumour had grown back," Vidal said. "That's where we are at now."
Vidal, along with his wife, Jennifer, were still in Saskatoon with Eli on the day of the fundraiser. According to Vidal's brother, Jeff, it was local resident Bonnie McAmmond and a few others who approached him with the idea of organizing the event.
"We sent out letters, while my wife, Breanna, started a Facebook page to promote the fundraiser," Jeff Vidal noted. "We asked several businesses for donations for the silent auction and the response was phenomenal. In fact, it's been overwhelming. There are so many positive people who have donated in their own unique way."
Jeff Vidal also confirmed the money will go toward travel costs to and from Saskatoon, as well as to help support his brother and his family which also consists of three other children – Eamonn, 11, eight-year-old Ezri and Isaac, who is six years old.
"I'm not working anymore – we don't have any income, so what everyone has been doing for us is very meaningful," Brad Vidal said. "So many people are standing behind us and are willing to help out as much as they can… There's a whole cloud of uncertainty right now, but the funds raised by the people back home does take some of the financial burden off us and we are truly appreciative of everything they continue to do for us."
Late last week, Brad Vidal also confirmed the Hospital for Sick Children in Toronto will take on Eli's care and attempt another removal of his rapidly growing tumour.
"It looks as though we'll be travelling to Toronto some time early in the New Year," he said. "Eli will first receive two more rounds of chemotherapy in Saskatoon."
Jeff Vidal also shared his gratitude for what so many people from the area have done for his brother and his family.
"This just speaks to the nature of small town Meadow Lake and people pulling together for an important cause," he said. "The support has been evident and we sincerely appreciate it."