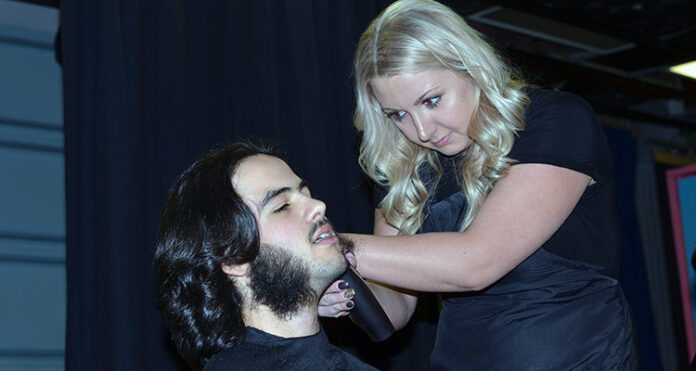 by Phil Ambroziak
There are several fresh new faces at Jonas Samson Junior High in Meadow Lake.
Well, perhaps not so many new ones, but certainly freshly shaven faces as the result of a recent Movember fundraiser that saw $2,100 raised for prostate cancer research as well as for Diabetes Canada. The fundraiser was spearheaded by Grade 9 student Xandyn LaBrash and his brother, Grade 7 student Kazzer LaBrash.
"Xandyn and Kazzer among many other students are in a group at the school called Me to We," explained Karissa LaBrash, the boys' mother. "As a group they decided to raise money and awareness for prostate cancer and diabetes as they (awareness months for both) fall in the month of November."
She said Xandyn had the support from the male teachers at Jonas. For each $100 raised, a teacher would have his face shaved Nov. 30 in front of the entire student population by local hair stylists who donated their time.
"Xandyn was the seventh person shaved once they met their goal of $700," she added. "However, with the support of family, friends, teachers and, of course, the community they surpassed the goal and reached $2,100. This money will be split between prostate cancer and Diabetes Canada. This is important to Xandyn and Kazzer as we have dealt with prostate cancer in the family, while Kazzer lives with type 1 diabetes."
Among the teachers who were shaved Friday morning were Trent Marsh, Leighton Chiverton, Daniel Daongam, Rob Kozinski and Gordon Whittle. Teacher Jeff Vidal was absent that day, but did follow through with the shave. According to Xandyn LaBrash, the $2,100 total was even a surpise to him and his brother, but considering how much more was raised than the initial $700 goal, he was more than happy to have his beard shaved.
"Everyone was very pleased with the accomplishment," he said. "We really didn't expect to raise that much in donations."
Kazzer LaBrash, meanwhile, said he is happy with the total because it means that much more will go toward helping him and others. While the Movember campaign traditionally raises money for prostate cancer research, the boys also wanted some of the funds going to Diabetes Canada because, in addition to diabetes research, that group also uses the money it receives to help people currently living with the disease.
Tammy Mutch, head of JSJH's Me to We group, said she is proud of what the school and the greater community were able to achieve.
"It was an amazing result, but it was really Xandyn and Kazzer who did all the work when it came to organizing last week's shaving event," she said. "Xandyn lined up the six teachers who participated and agreed to be shaved himself if the goal was met. Everyone did an incredible job."
Xandyn LaBrash will be at Carpenter High School in the fall while his brother will still be at Jonas. If possible, though, they said they would like to put together another fundraiser of some sort for next year.
"I don't know if I can grow my beard back that fast, but this fundraiser definitely lightened everyone's heart, everyone enjoyed being a part of it and it was a lot of fun," Xandyn LaBrash noted.