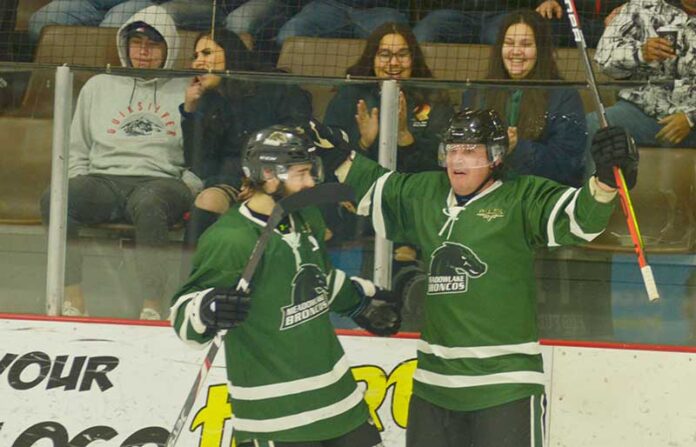 The Meadow Lake Broncos aren't ready to give up on a SaskAlta Hockey League championship just yet.

After dropping the first two games in their playoff series against the Hillmond Hitmen Feb. 14 and 15, the Broncos turned the tables in Hillmond with a big win Friday night (Feb. 21) and another one back home Saturday (Feb. 22) to tie the best-of-five series at two games apiece.

"Friday's game in Hillmond was probably one of the better games we've played in a while," explained Broncos head coach Winston Morin.

Jon Mirasty opened the scoring for Meadow Lake with two goals in the first period to give his squad a 2-0 lead after 20 minutes. Ashton McIntyre made it 3-0 for the Broncos in the second period before Hillmond finally answered back with two goals of their own. Calvin Fiddler, however, would later score in the second and again in the third period to cement the 5-2 Broncos victory.

"Once we got going, we never really looked back," Morin added.

In Saturday's Game 4, Bryce Neufeld scored for the Broncos in the opening frame, but Hillmond tied things up later in the period. No goals were scored in the second, while Mirasty put his team in the lead midway through the third. Hillmond would tie things up again, but Todd Fiddler would help the Broncos regain the lead 4-3, while an empty-netter by Calvin Fiddler gave Meadow Lake the 4-2 win.

"This game was a little tighter, but we didn't give them much to work with," Morin said. "The hometown crowd was 100 per cent behind us."

Among those in the crowd that night was long-time hockey fan Gary Mirasty, father of Broncos player Jon Mirasty.

"It was a really good game," Gary Mirasty said. "It was very fast-paced and our team has some good size to them… they didn't do much with that size during the first two periods, but come the third they started hitting their opponents a lot more.

The Hillmond team is a lot smaller and once you start hitting a few of these guys, they tend to start shying away from the corners a bit or from fighting for the puck."

Mirasty also said the Broncos have four solid lines and exhibit a lot of high energy.

"My son, Jon, scored a big goal that put the Broncos ahead and the momentum just shifted from there," he added.
"Everyone started trying harder from that point onward… it really got the whole team pumped up."

Mirasty also said the big crowd probably helped the hometown team's efforts.

"The rink was pretty packed," he said. "The hockey today is a lot faster, but it doesn't seem to be as rough and tough as it once was. You could have individual skaters ready to go end-to-end, a good wing man and an enforcer type to protect your top shooters. You don't see that so much today and there are fewer fights. The game has totally changed, but it's still exciting to watch and the fans that night were really excited to be there. Having the crowd behind them, I believe, also helped the team get hyped up and wanting to play that much better."

Game 5 will take place this Friday (Feb. 28) in Hillmond.

"It's do or die for both teams," Morin said. "Hillmond is a good team, so this game will be a nail-biter for sure."

by Phil Ambroziak