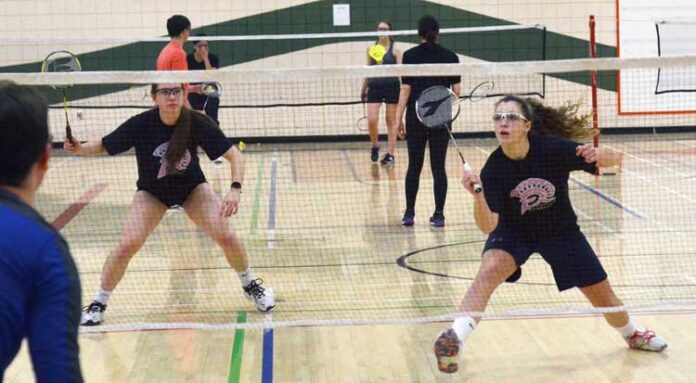 Badminton season is once again in full swing at Carpenter High School, but – according to coach Cheyne Dallyn – it won't be here for very long.

"It's a very quick season," explained Dallyn, which coaches the CHS athletes alongside fellow coach Troy Doucette. "We started practising three weeks ago and had a tournament last week. We drove down to John Paul II Collegiate in North Battleford and a full team of athletes competed there."

This past Tuesday (April 5), CHS was scheduled to host a mini tournament with schools from St. Walburg and Chief Napew Memorial from Big Island Lake First Nation among those expected to be in attendance. While the visiting teams ended up dropping out prior to the event, CHS athletes held their own playdowns.

"This coming weekend we have Mega-Birdie in Maidstone," Dallyn said. "Following that, divisions will take place next Tuesday. The season is not always this short. Usually we are able to start earlier, but basketball season pressed on a little bit into badminton season this year because our girls team did so well qualifying for provincials. That pushed our start time back a little bit."

Last weeks' tournament in North Battleford was a successful one for CHS with Reid Gunderson placing first in the boys singles event and Paxton McKee and Aubrie Wilfing taking the top spot in the girls doubles event. As for Tuesday's CHS playdowns, Dallyn said the absence of other schools was disappointing, but added the top two CHS teams in each category will be heading to divisions.

"We have a mix of Grades 10-12 students, but not very many Grade 9 players," Dallyn noted with regard to overall participation this season. "Overall, we have about 20 athletes who come out each week, so we're able to compete in boys singles, girls singles, boys doubles, girls doubles and mixed doubles. It's a very good number – 20 people signed up for badminton here is very significant, as we usually see maybe 15-20. We have more than usual which is great."

Dallyn isn't sure exactly why the sport appears to have experienced such a rise in popularity, but he is pleased nonetheless.

"I don't know if we can pinpoint one reason, but we have a good crew and I know Jonas Samson Middle School runs a strong program," he said. "It may have piqued some interest in badminton in the students before they carried over to Carpenter High."

As for the upcoming Mega-Birdie event, Dallyn said it will be a big stage for the CHS athletes to see where they rank in the region.

"Maidstone hosts something like 32 teams or more, so it's a really big tournament which will allow us to gauge the competition," he said. "We're also looking forward to divisions next week and having athletes compete in all categories. From there, the top two finishers will keep moving on."
by Phil Ambroziak