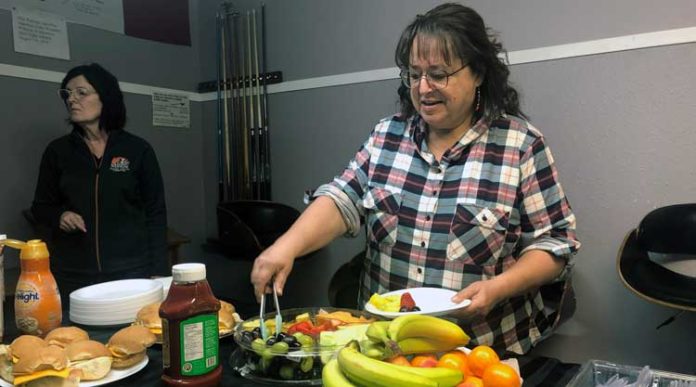 Telemiracle 47 is just around the corner and organizers are counting on Meadow Lake and area to once again do its part.

"Whether you were born and raised in Saskatchewan or have lived here for any length of time, when you hear these phrases – 'Ring those phones' or 'Where are we going? Higher!' – you know exactly what they refer to – Telemiracle," noted Carman Praski, fund development manager with the Kinsmen Foundation. "This annual, 20-hour telethon in support of Saskatchewan's charity, the Kinsmen Foundation, has been helping people every day for the past 46 years. From a province with a population of about 1.2 million people, Telemiracle has raised more than $153 million since 1977 and is truly rooted in Saskatchewan."

Praski joined other Kinsmen Foundation members in Meadow Lake Friday morning (Jan. 20) for a Telemiracle 47 corporate breakfast. The event, which attracted a small crowd, allowed local businesses and organizations an opportunity to learn about Saskatchewan families that have benefitted from funds raised through Telemiracle, provided a sneak peek at the national cast for the Feb. 25 and 26 telethon and offered ways in which businesses and groups can support Telemiracle this year.

"(Since Telemiracle's inception), the Kinsmen Foundation has relied on the generosity of Saskatchewan people and businesses who give to Telemiracle," Praski continued. "Without the collective support of our sponsors and donors, we could not provide life-changing gifts to those in our communities who desperately need our help – gifts such as specialized mobility and medical equipment, as well as travel assistance for residents in need of vital medical treatment outside their home community. This year, we need your support more than ever. With needs increasing and costs continuing to rise, we are asking for community-minded organizations like yours to step up and help us make Telemiracle 47 a huge success."

Some ways, Praski said, businesses can support Telemiracle is through corporate sponsorship, matching employee donations, payroll deductions and by selling Telemiracle 'Helping Hands' – paper hands which can be signed and displayed at local businesses as a way of showing how much the community cares.

"I want to get these Helping Hands plastered in every business in Meadow Lake," Praski said. "It's a way to let your patrons know you support Telemiracle, you support charities, you support your community. It's great public relations for you guys, and it's great PR for us as well."

In addition to the Kinsmen and Kinettes in attendance for last week's breakfast, representatives were also on hand from the Meadow Lake Co-op, Extra Foods, PineRidge Ford, The Medicine Shoppe and Meadow Lake Mechanical Pulp.

"Thank you to everyone who came out this morning," stated Kinettes member Louise Slater. "We're hoping to build upon this and to make this event bigger and better each year. Without having our own Meadow Lake (Telemiracle) show anymore, it means we want to get out to the businesses even more… I am very passionate about Telemiracle. It's very close to my heart and I have been on the foundation board for four years. It has helped so many people from Saskatchewan, including a number of local families."

Also in attendance was Meadow Lake mayor Merlin Seymour.

"Telemiracle is a great opportunity for everyone to get involved in helping his or her community," Seymour said. "I know the local radio-thon was a lot of work, but it was also a lot of fun. Money raised also stays in the province… People may have to go to specialized places, but it's all Saskatchewan people who benefit from the money raised through Telemiracle."

Because this year marks the 47th installment of Telemiracle, the local Kinsmen and Kinettes would like to see Meadow Lake and area raise a total of at least $47,000 toward the overall Telemiracle total.
by Phil Ambroziak