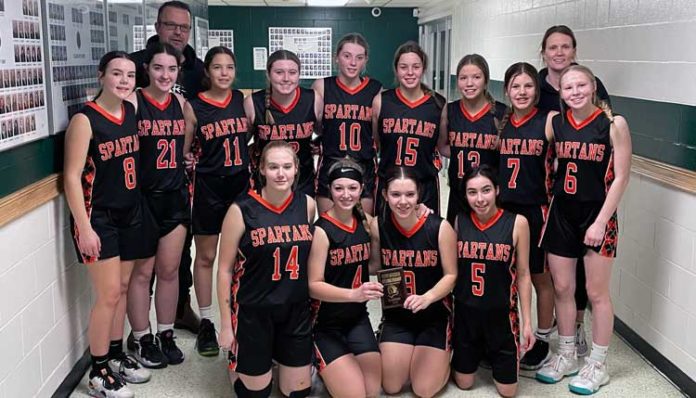 The Carpenter High School girls 'A' basketball team continues to dominate the competition.

CHS came out on top at a tournament held in Melfort this past weekend, overcoming the competition to be crowned champions.

"We're very proud of the girls – it was a big weekend," remarked CHS girls basketball coach Kendra Paramchuk. "One of the teams dropped out of the tournament, so they had to make it a five-team round-robin. This meant our girls played four games on the weekend, which was a change because normally they play three games over two days."

Still, Paramchuk added, it was a good weekend for the team.

"We meshed well together, we had some big scoring moments, our Grade 9s got to play in a couple of the games – it was just a big weekend for the team," she said "Everyone had their best showings to date."

During the tournament, CHS faced and defeated John Paul II Collegiate from North Battleford, Greenall High School from Balgonie and Humboldt before squaring off against Melfort in the final, winning by a score of 50-35.

"We had some moments of greatness, but there are still some things we need to work on," Paramchuk said. "Everybody is contributing on defence and offence, and this win is great for the girls' confidence heading into this coming weekend when we compete at North Battleford Comprehensive High School."

The following weekend (Feb. 10 and 11), CHS will host its pink tournament, a home tournament that will also serve as a cancer fundraiser. Money collected will go to the oncology unit at the Meadow Lake Hospital.

"The community has been super generous with donations, while the girls have worked hard to raise money," Paramchuk said. "The money raised is staying local. Our goal is $17,000 and we are well on our way to achieving that, and our event hasn't even happened yet. It's overwhelming. Again, people have been so generous and, because it's for a local cause, I believe more people are willing to support this important fundraiser."

As for the team's performance, Paramchuk reiterated how proud she and the entire coaching staff are of the girls.

"We keep pushing our players and we are pleased to see the amount of work and effort the girls continue to put in," she said.

Meanwhile, the CHS boys 'A' basketball team was not in action this past weekend, returning to the court Feb. 9-11 in Prince Albert.
by Phil Ambroziak