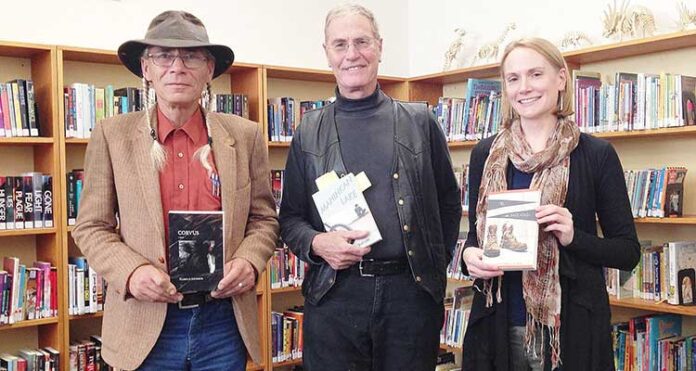 by Linda Mikolayenko
Three Saskatchewan authors presented readings from their new works at the La Ronge Public Library on Sunday (Oct. 18). Harold Johnson, R.P. MacIntyre and Sandy Marie Bonny teased the audience with short excerpts from books recently published.
Corvus is the title of Johnson's fifth novel, taking its name from the Latin word for raven.
"Raven has been speaking to me for a long time," Johnson explained, noting he had a pet raven when he was five years old. "He speaks throughout Corvus."
The novel is set in the future where natural disasters and wars have led to a southern exodus and La Ronge has become a thriving city.
Johnson said he tries to get people to imagine what might be.
"Climate change is already here," he emphasized, pointing to this past summer's fire season as an example of that.
Johnson's previous novel, The Cast Stone, won a Saskatchewan Book Award for fiction and his books are taught at Black Hills State University in South Dakota. His wife, Joan, believes with this novel, "he is coming into his own in his literary voice and literary style."
Currently the Crown Prosecutor in La Ronge, Johnson lives at the north end of Montreal Lake near Molanosa on the traditional land of his Cree ancestors.
R.P. (Rod) MacIntyre is originally from Saskatoon, but observed, "I've lived mostly on the shores of lakes throughout my adult life," including Lac La Ronge, until a recent move to Christina Lake, B.C.
Mahihkan Lake is the fictional northern location where the events of his story intersect. It is where Denny and Dianne go to spread the ashes of their adopted brother. Harold, the truck driver who killed their brother, is also on his own journey there.
The novel had its beginnings many years ago, and is dedicated to MacIntyre's childhood friends, one of whom was abused.
"My own scarring in watching Jerry get beaten was part of what had to get out in the telling of this whole story," he admitted. "One of the things that also drives it, is the great mysteries all families have. They are our deepest secrets."
MacIntyre is a multiple award-winning author who has also written plays and short stories, and worked as an actor, director and editor, as well.
Mahihkan is the Cree word for wolf, and, coincidentally, ravens figure in the story too.
While MacIntyre and Johnson are well known to La Ronge readers, for many at the event Sandy Marie Bonny was a fresh voice, even though her first novel, Yes, and Back Again, is not her first published work of fiction.
A geologist by profession, Bonny currently works at the University of Saskatchewan in science education, but has a wide variety of interests. In order to incorporate her own research into the story, she acknowledged she had to make her characters in the novel also do research to make it believable.
Thistledown Press's promotional material describes the book as "a suspenseful and thought-provoking mystery set in an atmosphere marked by class and racial divisions. Bonny examines Canada's legacy of the historic marginalization of its First Nations peoples and explores the personal journeys required to bridge the distances between individuals, cultures and generations."