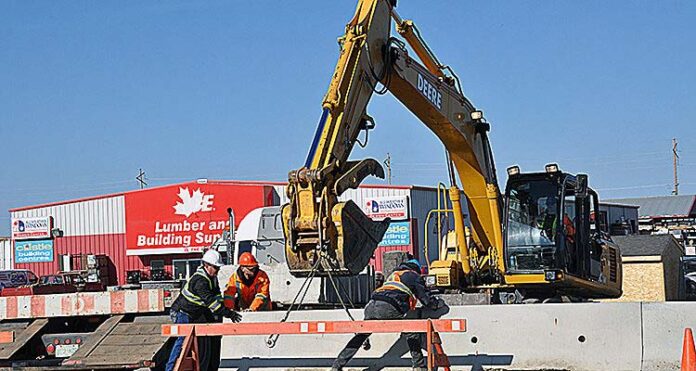 by Phil Ambroziak
Motorists in Meadow Lake now have to take an alternate route to and from the west service road adjacent to Highway 4.
This week, city workers installed a barricade at the service road approach located at Highway 4 and 7th Avenue, effectively blocking traffic from coming and going via the access point near McDonald's and Ace Lumber.
"As most people are aware, we'll be doing a paving upgrade to the service road and this (blockade) is being done on a trial basis before we complete that project," city manager Diana Burton explained.
While there are a handful of other approaches located along the service road, Burton said the purpose of the temporary blockade at this particular spot is to gauge how such a change could affect traffic. If feedback is positive, the approach will be removed permanently as part of the west service road project.
"Safety concerns are regularly brought to the city's attention, particularly with regard to how steep the approach is and how slick it can be during the winter," Burton continued.
Mayor Gary Vidal agreed.
"There has been some concern about this raised in the past and, in the process of revitalizing the west service road, there's been an ongoing discussion with regard to what we should do about the approaches," he said. "Some people have even recommended closing all of them and only allowing access to the service road from both ends."
The mayor also noted a temporary blockade will identify any challenges as they arise and provide for a chance to properly address such issues prior to the actual construction phase.
"It's also council's intention to develop short-term parking along the west service road to accommodate heavy trucks," Burton said. "Currently, no one is allowed to park on the service road, so council would like to establish pullouts to address this ongoing concern."
It's not uncommon for heavy trucks to pull over on the service road in spite of the fact "no parking" signs are clearly posted.
"If the bylaw officer drives by and such an infraction is witnessed, he will issue a ticket," Burton added.
Meanwhile, if a decision is made to permanently remove the approach, the city has confirmed the crosswalk currently located at that location will remain with a pedestrian footbridge (across the ditch), similar to the one near Carpenter High School, being installed. This is something Meadow Lake resident Kaitlin Harman is happy to hear.
"It's really positive the city is engaging in a traffic study along Highway 4," Harman noted. "As part of the Flying Dust and Meadow Lake In Motion committee, I think improving the safety for pedestrian access to businesses on the west side of Highway 4 is important for the overall walkability of our community."
The paving project itself, which will also include subgrade work, is currently out for tender with bids expected to close April 26.
"We hope to get started on the actual project sooner rather than later," Burton said.
As for businesses located in the immediate area of the approach, McDonald's franchisee owner Sharon Taylor hopes the city includes them in any further decisions regarding the service road.
"As a small business owner in Meadow Lake, I fully support the city's efforts to improve pedestrian and public safety," Taylor noted. "I would encourage city council to consult with the small business owners of Meadow Lake before making any further decisions that may impact local businesses, and I look forward to partnering with the city as part of their consultation process."
On the subject of safety, Vidal said he's unaware of any recent collisions at the approach in question, but added it's better to be safe than sorry.
"You do hear a lot of stories and about a lot of close calls," he said. "I do know of one (collision) that occurred several years ago, and one is one too many. It's time we finally do something before there's a second one."