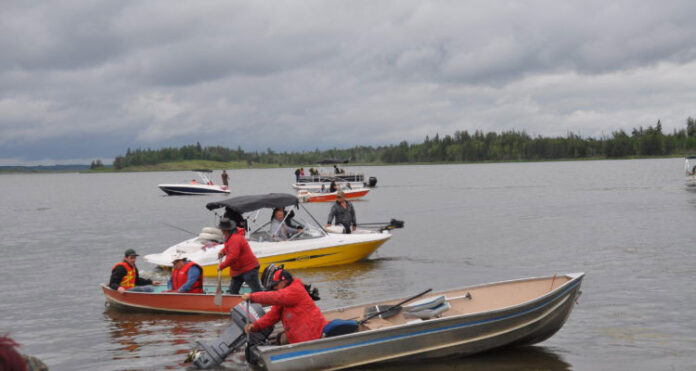 He had the winning fish last year and the first catch of the day at this past weekend's 17th annual Elks Fishing Derby, but it wasn't enough for Charlie Eaket to claim the top prize two years in a row.
When the two-day event wrapped up Sunday at Pagan Lake, the overall winner was Robert Lavallee of Meadow Lake who nabbed an 11.85–pound jackfish Saturday afternoon to earn this year's title. Meanwhile, second place went to Debbie Drager of Meadow Lake for her 9.85-pound jack with third place claimed by Eaket for his seven-pound jack netted about an hour into the competition. The final results didn't bother Eaket, however, who said he takes part in the derby simply for the fun.
"This is my second year here," the Prince George, B.C. resident stated. "My partner, Anne Fillion, is originally from the Meadow Lake area. We like to come up each summer to visit, but I never competed at this event until last year. I won last year with a big jackfish I caught, so that's why I signed up again this year."
Eaket also said he plans to return to Pagan Lake again next year.
"I fish quite a bit in B.C., but had never competed in a derby until I came here last year," he added. "It's a real good event and a lot of fun."
Meadow Lake resident Conrad Fillion agreed, noting he's been a part of the derby since its inception.
"I've only ever missed one day in 17 years," Fillion said. "I love taking part in the Elks derby and, over the years, have also donated prizes. It's just a really good fundraiser, and I just love fishing and being in the outdoors."
Fillion also stressed how well organized the event is, giving credit to the Elks for their continued efforts to ensure the derby's success.
"I've never won the whole thing, but two years ago I was second with a nine-pound jack," he said. "That's pretty well all you catch out here. There used to be perch and pickerel too, but you can't catch walleye anymore while the perch are hit and miss."
This year, 101 people registered for the event. While many of them included families, Fillion said everyone – long-time fishermen and newcomers alike – become fast friends, often sharing in a fish fry while sitting around the campfire during the evening.
"People come from all over," he said. "It's great for local tourism."
According to Elks member and organizing committee member Larry Nelson, funds raised from the derby will be used for various initiatives supported by the Elks.
"We haven't counted how much was raised this year, but we try to make as many donations as we can throughout the year," Nelson said. "We donate to the Meadow Lake and District Music Festival each year, as well as to a scholarship fund for Carpenter High School. We also support the Door of Hope, the Salvation Army, Northland Pioneers Lodge and, last year, we helped out three families that lost everything to fire."
Nelson also said he's pleased with how this year's derby turned out in the end.
"We had members of the SheDevils rugby team helping us out, which was great, and although numbers were down a little (about 110 people registered last year), attendance wasn't bad considering the poor weather we had Saturday," he stated.