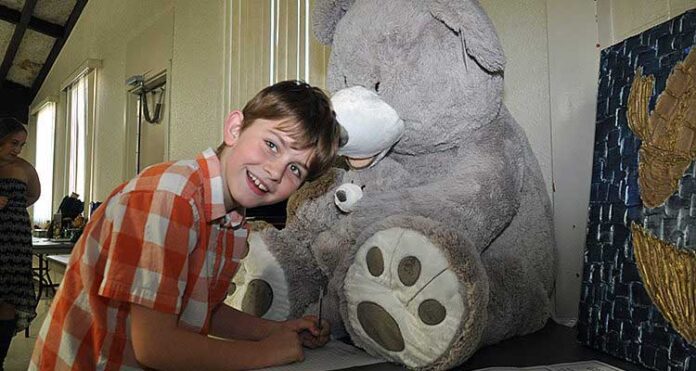 by Phil Ambroziak
It was a wild yet worthwhile night at the Meadow Lake Civic Centre Saturday (Oct. 22).
Close to 300 people gathered for the fifth annual Wild for Life fundraiser where more than $21,000 was collected in support of Healing Haven Wildlife Rescue. Mark Dallyn, the organization's founder, said the event – which featured a dinner, dance, as well as both a silent and a live auction – continues to play a major role in Healing Haven's continued success when it comes to the rescue and rehabilitation of sick and injured wildlife in the North.
"This is our big one," Dallyn said. "On average, it's brought us about $22,000 each year and that money pretty much keeps us going throughout the following year. It helps cover veterinarian costs, medication for the animals, the gasoline used when travelling to pick up wounded animals or to the release spot when we return them to the wild. Some of it is also used to build and maintain the various enclosures where we house the animals. They need to be a certain size to meet Ministry of Environment standards."
Initially held at Healing Haven's home community of Dorintosh, after two years Dallyn said a move to Meadow Lake was necessary because the Wild for Life event had simply outgrown its original location.
"It was something that demanded a larger venue," he noted. "We could only sell 200 tickets in Dorintosh and they would sell out in no time at all. Since moving to the Meadow Lake Civic Centre, we've drawn crowds of close to 400."
Dallyn said this proves how much backing his efforts have from the local community, something he admits he never expected when he launched the rehabilitation centre in the spring of 2012.
"We've always had a great number of volunteers including anywhere from 20-25 for the fundraiser alone," Dallyn explained. "We also have an awesome board of directors who work around the clock, as well as a few volunteers who help me out with the animals. Healing Haven opened in 2012, but I was permitted by the province to conduct wildlife rehabilitation back in January 2009."
Among those who assist Dallyn with his efforts is long-time volunteer Dawn Schwartz.
"I have known Mark my entire life and we share the similar mindset all life is precious, so it's naturally easy for me to volunteer," Schwartz said. "I continue to volunteer because I feel it is important to look after our environment, so future generations can appreciate it. Everything from the mouse in the field to the bear in the forest are interwoven and connected."
Currently, Healing Haven is serving as a temporary home for a couple of deer fawns, a few raccoons, skunks, birds of prey, as well as turkey vultures, songbirds and more.
"We're getting into winter, so this is the ideal time of year for us to hold our major fundraiser," Dallyn continued. "It's also important to acknowledge the community, businesses, volunteers and everyone who make this event happen each year. It's that kind of support that allows us to continue doing what it is we do."