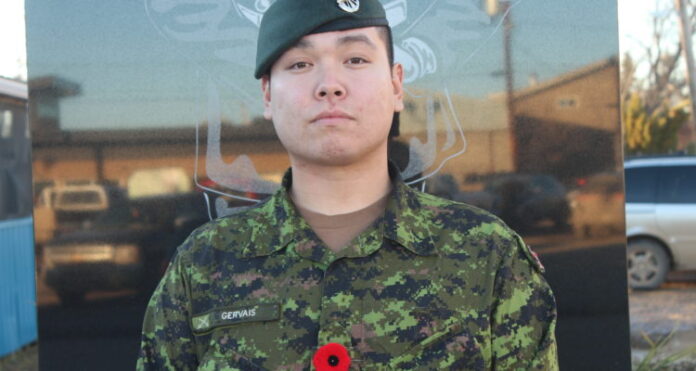 As an officer in the reserves, Trenton Gervais commutes to Regina every weekend to fulfill his duties. Recently, Northern Pride spoke with Trenton about his Remembrance Day plans, why he joined the military and how his first year as a teacher is going.
Q: How do you spend Remembrance Day?
A: Remembrance Day is an important day for everyone in the military. For myself, I had relatives in the military who served. It's a way for me to remember the sacrifices they made. Also, my regiment has battle honours all the way from the First World War to Afghanistan. A lot of soldiers have lost their lives. On a personal level, I remember my family and friends who were in the military, as well as the men and women of my regiment who sacrificed to allow us to have what we want to have. It's one day of the year I look forward to and one I don't ever try to forget about.
Q: What will you be doing this year?
A: My regiment is part of a huge Remembrance Day ceremony in Saskatoon. Every year, there's a big indoor ceremony at SaskTel Centre where we parade with the navy reserves and the veterans. We parade together, then we do the Last Post, Marching on the Colours, the national anthem and In Flanders Fields is read. Afterwards, we go back to our armoury and we spend time with friends, family and whoever else. It's a way for everyone to be together and remember why we can do what we do.
Q: What are you most proud of?
A: Being part of the North Saskatchewan Regiment is a huge honour. The cap badge I wear on my beret is what I'm most proud of in my military career. Being able to earn it and consider myself to be an officer in the regiment is a huge thing – I'm very proud of that. It was only a couple years ago I found out my great-grandfather, who served in the Second World War, was from the regiment my regiment is from, which is the Saskatoon Light Infantry. So, that was an even bigger reason for me to earn a cap badge and title. It's huge and it's something I'll never give up.
Q: When did you join the Canadian Armed Forces?
A: I joined Aug. 10, 2011 – so five years ago. I had just graduated from Carpenter High School and I still lived in Meadow Lake, but in September I started my first year at the University of Saskatchewan in Saskatoon. Initially, I applied to go to the Royal Military College in Kingston, ON, but they don't offer an education degree and life had other plans for me. I decided I'd go to the U of S for the education degree. Not long after, an army recruitist called me and asked if I was still interested in becoming an infantry officer. I said yes and it went from there.
Q: What does it mean to be part of the reserves?
A: We do all the same officer training as our regular force counterparts. I did all my qualifications and courses on the summers between school. Two summers ago, I finished the dismounted platoon commander course, which is the course needed to become a lieutenant in the infantry. That was the hardest thing I've ever done in my life. It has a pretty high attrition rate, which is about 60 per cent. When I started in June 2015, there were 150 guys. The second day we had an intense fitness test that included a 13-kilometre rucksack march with about 50 pounds of gear. The backpack is filled with everything you'll need such as sleeping gear, food, ammunition and water. We did that and there was an Australian captain who was leading the march and he was a beast. I don't know how anyone kept up to him. After about an hour and 45 minutes, we made it to the end. That was the first real gut check for me. I was 21 and the youngest guy on the course. Most of the guys were between 24 and 30 years old.
Q: What did you need to do to get to that point?
A: For officers, we all go through a phase of training called the basic military officer qualification (BMOQ) and, as a reservist, I did that on weekends. I did the last three weeks of the course full-time at Canadian Forces Base Shilo in Manitoba. After that, I did another course called BMOQ land which is what all army officers need in terms of leadership. I learned how to write orders and run live fire ranges. I also learned how to lead a section of people, which is about eight to 10 guys. It's also the first time going out into the field for periods of time. We were sleep deprived and we might have had to skip a meal or two because there were more important things to do. It was the first time being immersed in the army culture. I completed that course in Edmonton and it was 10 weeks long.
Q: What are the perks of being involved?
A: A couple weekends ago, my regiment went out to Dundurn and fired all kinds of weapon systems and got qualified with them. For example, they were firing the M203 grenade launcher, the C9 light machine gun, the C6 general purpose machine gun and the Carl Gustaf recoilless rifle, which is basically a rocket launcher. Everyone in the reserves has a day job or they're a full-time student. So, being able to go out on a weekend and say you shot a rocket launcher is pretty cool.
Q: How's your first year as a teacher going?
A: I teach Grade 2 at Kopahawakenum Elementary School and I started at the end of August. It's been great so far. The children are wonderful and I like working with the staff. It's a good place to work.
Q: As a Flying Dust First Nation member, what's it like to teach on the reserve?
A: It's a great feeling. I made a lot of plans in university, but life always leads you back home. I finished university and came back home to give back to the community. To be able to teach on Flying Dust and work with friends and family is a great thing. There's a path for me and it led me back and I'm happy with that.
Q: What's it like travelling to Regina every weekend?
A: It can be a challenge, especially on Fridays. I leave Friday afternoon for Regina to do my second job with the army. After January, I won't have to drive to Regina anymore, but I'll have to go to Saskatoon. I do have some weekends off and they're always nice to have.
Q: Are you looking for a career in the military or as a teacher?
A: Somedays I wake up and I want to be in the army full-time, and other days, being a teacher is what I want to do. But, I think I do eventually want to pursue a career with the military. I've been in the reserves for the last five years and I've really come to appreciate everything the military can offer. If I did pursue a full-time career in the army, that would be something I'd want to do while I'm young. In the next couple of years, I might be doing that.
Q: As a reservist, will you be sent to war?
A: In the Afghanistan War for example, if you were in the regular force, it was almost guaranteed you were going to go over at some point and be in conflict. As a reservist, we have a choice. We had a lot of guys in my regiment who went to Afghanistan. They didn't have to go, but they wanted to. In that case, the reserve augments the regular force.