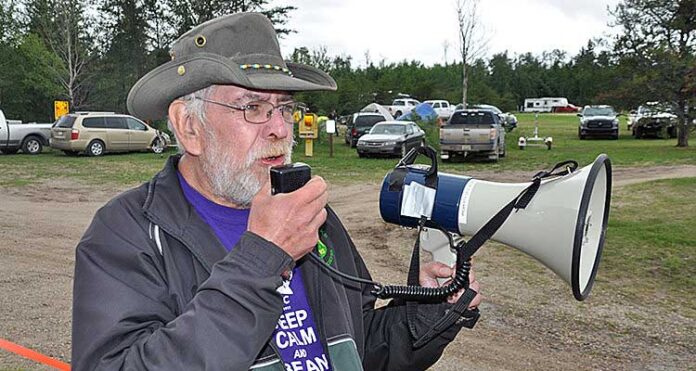 by Derek Cornet
All those who spoke at a memorial for the late Larry Nelson June 3 at Pagan Lake shared stories of a man who made a positive impact on his community.
Nelson – who passed away March 25 at the age of 66 – founded the Meadow Lake chapter of the Junior Forest Wardens (JFW) in 1998 and members invited all those who knew him to a special ceremony to honour his legacy. Dozens of people attended and they formed a large circle and one-by-one talked about Nelson and what they remember the most.
"It's nice to know he influenced a lot of people and how everything is positive," said his twin brother, Garry Nelson of Athabasca, AB. "I used to come to a lot of the forest warden functions here. When Larry started the club, I was the regional coordinator for eastern Alberta and I helped him get the club started. It's still the only club in Saskatchewan."
The Nelson twins were born in 1950 at Crowsnest Pass, AB. As children, Garry said they always did things together and their thoughts were always the same. They both joined the Junior Forest Wardens in 1963 after their father became involved in JFW. While Garry worked for the club full-time in various capacities in Alberta, he noted Larry moved to northern Saskatchewan in 1976 and worked for the province until he retired in 2002.
Nelson went on to say it was heartwarming to see so many people at the gathering who were impacted by Larry's life. He said, it made him happy to know Larry's memory will continue with the club.
"He was a great brother, friend and mentor," Nelson remarked. "I'm going to miss him. Every summer, we spent six to eight weeks together driving through Alberta and B.C. It's going to be tough this summer."
Meanwhile, JFW vice-president Neil Marsh – who joined the club in 1999 – said the gathering was like their version of a funeral. He went on to say the weekend was also the group's year-end campout and it was important to them to stop and remember Larry.
"I'm sure glad he did," Marsh added about Larry founding the club. "There's nothing like it anywhere. We've been lucky to be involved over the years."
It was also announced at the memorial that a $200 bursary will be created in Larry Nelson's name. It will be organized by Meadow Lake SheDevils Junior Girls' Rugby and will be given annually to a player in the league beginning some time this year.