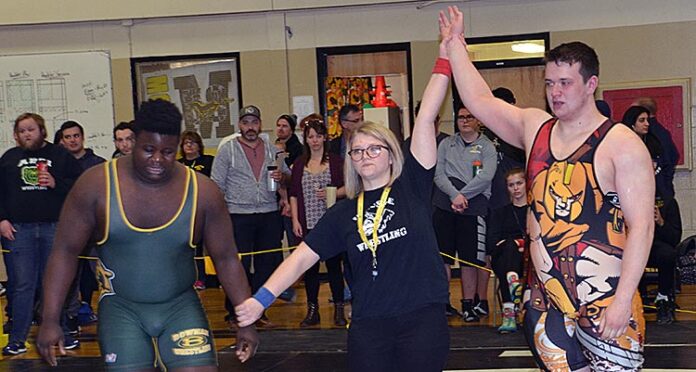 by Phil Ambroziak
What's better than seeing one provincial wrestling banner hanging in the Carpenter High School gymnasium? Two provincial wrestling banners. Actually, make that three provincial wrestling banners.
While last year saw Jacob Ambroziak earn CHS its first-ever provincial wrestling championship when he captured gold in the male 130kg division, history repeated itself this past weekend at the 2017-18 Saskatchewan High Schools Athletic Association (SHSAA) provincial championships in Saskatoon when the Grade 11 athlete went 4-0 to successfully defend his title. The feat not only means a second banner bearing Ambroziak's name will soon hang alongside the one he earned last season, but the 10 team points he also gained for his efforts in Saskatoon helped the CHS male wrestling team secure this year's Provincial 3A Championship.
"The boys team score added up to 20 points, which was enough to win the 3A title this year," explained CHS wrestling coach Jason Guenther. "This is a first for Carpenter High School. Last year was our first individual gold medal, and this year is our first team championship. Now we will get two more banners in the gym."
In addition to Ambroziak's gold medal victory, bronze medals were achieved on the weekend by Tavin Bear in the male 100kg division, as well as Skyla Russell in the female 60kg category and Savanna Russell in the female 64kg grouping.
"I am very proud of the team as a whole this year," Guenther continued. "They were a great bunch this year, with good attitudes and a desire to compete at a high level. We had nine from CHS and two from Jonas Samson Junior High qualify for provincials this year, up three from last year. We also had more athletes who made it to medal matches than ever before."
While Ambroziak's gold, as well as the Russell twins' bronze medals mirrored last year's results, Bear is a first-time provincial medalist while Parker Vandale-Niccolls (male 62kg) and Cody Barden (male 65kg) competed in bronze medal matches, but ultimately finished fourth overall.
"It felt pretty good to be able to win my second provincial championship as an individual competitor, but even better to win a third, this time as part of the CHS male wrestling team," Ambroziak said. "I'm proud of how far the entire wrestling team – boys and girls – has gone in just the couple of years we have all been wrestling."
Meanwhile, Skylar Barden (female 56kg) and JSJH's Orion Craig (male 47kg) both finished in sixth place, but JSJH's Kierra McCoy (female 60kg) and CHS' Gabriel Regnier (male 59kg) and Logan Boser (male 73kg) were all knocked out early in the competition and their final rankings were unknown as of this week's sports deadline.
"Pride in these athletes would be a great understatement," remarked fellow coach Chris Brownrigg. "As a relatively new coach, the opportunity to be part of this high school program has been very personally fulfilling. When I started, I was 30 years out of date with wrestling. My learning curve was as steep as that of the athletes'. I realized, driving home after the provincial championships, I had just experienced my first generational loop with the team. I saw athletes grow from newbies to provincial medalists in three short years. This was the first year athletes who started wrestling with me were now going to graduate and move on to new adventures. Some may stick with wrestling and some may not. As I reflect on all of the practices and tournaments, the ups and downs and the wins and losses the team has gone through together, I feel as happy with our accomplishments as I feel saddened to see this chapter close."
For most of the wrestlers who competed at provincials, the season is now over. Some, however, are also members of the Northern Pikes Wrestling Club and have now shifted their focus to the national stage where they will compete at the 2018 Canadian Championships in Edmonton later this year. Ambroziak is among the local wrestlers who will compete at the national event where, last year, he was crowned Cadet Heavyweight Wrestling Champion.
"Nationals is exactly one month from now and is a tournament that takes a lot of dedication to train for, but I have trust in my team and know we will do the best we can," he said.