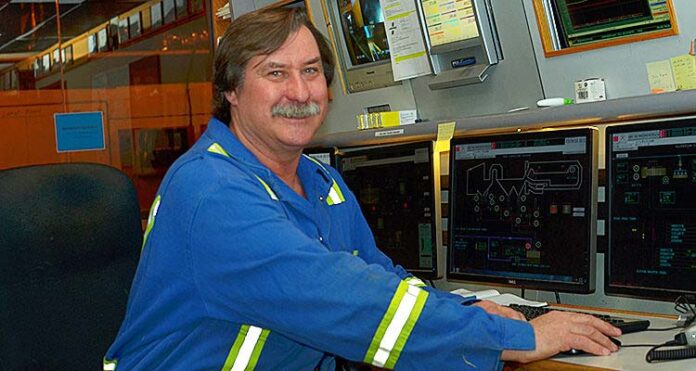 by Terry Villeneuve
A total of 90 employees were recognized Saturday (March 24) in a special awards ceremony at the Meadow Lake and District Arena mezzanine for their years of service to Meadow Lake Mechanical Pulp.
General manager Simon Imray said long service awards were presented to all employees who were celebrating a five, 10, 15, 20 or 25-year milestone in appreciation for the contribution and dedication they have made to the company.
"Each employee reaching one of these milestones will receive a gift and we thank you for being here tonight," Imray said. "In our busy day-to-day lives, too often we let the chance to recognize each other's accomplishments pass by without acknowledgement."
He personally thanked each employee, and also noted family support should not be overlooked.
"It is equally important to take a moment and thank the spouses of each of our service award recipients," he added. "You too have provided great service in supporting our employees and our company over the years."
One particular employee, Robb Thiessen, was recognized for his 35 years on the job. He not only worked at the Meadow Lake mill since startup, but was employed by Millar Western Pulp in Whitecourt, AB for 10 years prior to moving here. Meadow Lake's mill was originally owned and operated by a partnership between the Government of Saskatchewan and a company from Alberta – Millar Western.
"I've been working in the forest industry for a lot of years – the last 25 in Meadow Lake," Thiessen said following the ceremony. "When I was in Whitecourt, I was a team leader there and was asked if I wanted to move to Meadow Lake to help start up the woodroom. So, I moved back to Saskatchewan in 1991. I grew up in Eyebrow, SK. and moved to Alberta for work way back in the '70s."
In the beginning, Thiessen was the supervisor in the woodroom, then was a production operator in the main mill before coming over to the steam plant as a recovery evaporator operator.
Fellow employee Kim Kozlowski celebrated his 15-year milestone and shared his view on working at the mill.
"There weren't that many jobs around after I finished high school and the mill seemed like a good place to work," he said. "I started full-time in June of 2002 when I was 22 years old."
His father, Don, worked at the mill before that and Kim was also there working as a summer student.
"I guess you could say that's where I got my foot in the door so to speak," he added. "I was a maintenance helper my first summer, then went on the yard crew the next year and finally as a warehouse operator in my third year. Later on I got hired after finishing my power engineering studies."
Like Thiessen, Kozlowski has worked in different parts of the mill. He spent his first two years in the warehouse, then one in finishing and one in bleach de-watering. The last 12 years he's been in the steam plant.
"Then a position came open for the control room shift supervisor in 2014, so today I'm the steam plant manager responsible for 26 employees," he said. "There's a good group of people working here, and they take great pride in their work."
Site construction on the Meadow Lake mill began in 1990 and by February of 1992 the first bales of pulp were being shipped to end users around the world.
In 2006, the ownership relationship changed, resulting in a company name change to Meadow Lake Pulp Ltd. Since 2007 it has been operating under the name Meadow Lake Mechanical Pulp Inc., which is part of the Paper Excellence Group.
Today, of the 300-plus employees, more than 40 have been there since the beginning.