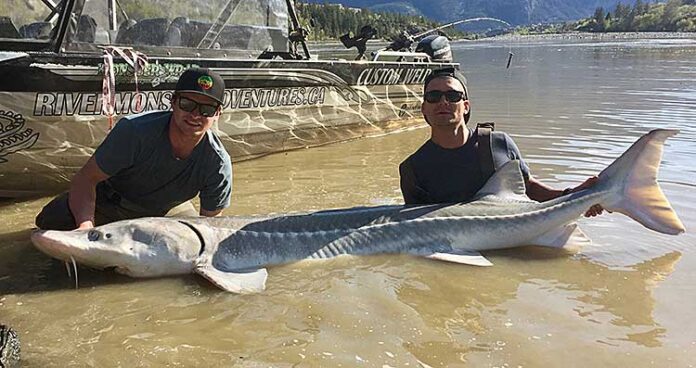 by Phil Ambroziak
When Flying Dust First Nation's Kyle Lambert tells a fish story, it's anything but.
Recently, Lambert – who now resides in Saskatoon – returned from a fishing expedition on the Fraser River in Lillooet, B.C., where he experienced some of the biggest catches he's ever had in his years as an angler.
"I went with an outfitting group called River Monster Adventures," Lambert explained. "The trip took place April 22 and we landed 16 sturgeon. The three biggest measured 7'2", 7'9" and 8'6" in length"
Lambert didn't get to keep any of the "river monsters" he caught, however, as the trip was part of a catch and release program designed to preserve the fish.
"They have some pretty strict guidelines in place there when it comes to sturgeon," he said. "If they're not already micro-chipped when you catch them, you have to do it before releasing them back into the water. It's all barbless hooks we use also, but still quite an experience overall."
As for the effort needed to catch fish of such substantial size, Lambert said it took a good hour and a lot of stamina to haul in the eight-footer.
"They put up quite a struggle – I've never seen a fish fight quite so hard as a sturgeon will," he noted. "In that hour, I had to chase him for six kilometres. That just gives you an idea of what its strength was like, but the trick is to just not let go. I could really feel its power and, by the following day, my arms were very sore."
Lambert has been fishing his entire life and said the recent trip to the Fraser River has been a bucket list item for him for some time.
"It was a lot of fun, I made some new friends and hopefully will be going back again in October," he said. "A lot of people I know are calling it a monster catch, and it was, but I'm always on the water. In the last two months, I've fished in four different provinces, on five different lakes, one river and have caught six different species. That just shows what kind of an angler I am and how serious I take this."
This July, Lambert is headed to the West Coast where he will fish for salmon and halibut.