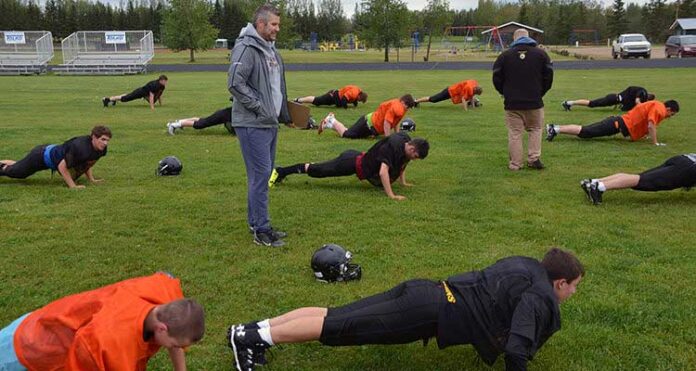 by Phil Ambroziak
The Carpenter High School Spartans are ready to roll.
With their first game of the 2018 season set for next Friday (Sept. 7) at home, members of the CHS football team have been honing their skills and shaking off any rust they may have collected in anticipation of what head coach Sam Dawson hopes will be a remarkable campaign.
"I'm looking forward to another great season," Dawson remarked. "We've got a lot of interest from players already including a good group of Grade 9s and 10s which is exciting for the future of the program. We also have a good schedule this season which sees us competing against the Delisle Rebels (of Delisle Composite School) twice. Delisle is a great team, so this will be a really good test for us."
Last season, the Spartans were victorious in only one outing, against John Paul II Collegiate of North Battleford. It was the team's first win in more than two years, but Dawson believes that record will improve this year.
"I'd like to say we can better that record," he noted "We have to get a few more of our returning guys to come out, though. We have football camp Monday to Friday this week and, so far, we've only had the one practice (Dawson was interviewed Tuesday afternoon), so it's difficult to speculate at this point how things will ultimately shake out."
The camp runs from 5:30 to 7:30 p.m. this week, while regular after-school practices will resume once classes begin next week. Meanwhile, next Friday's home opener will be against the team from Rosetown Central High School, a newcomer to Saskatchewan High Schools Athletic Association (SHSAA) nine-man football.
"Rosetown was a six-man team for a number of years, so it will be interesting to see what they can bring to nine-man football," Dawson said. "They take the place of Unity, which, this year, has decided to compete in six-man."
The following week, CHS will also be at home when they host JPII Sept. 13.