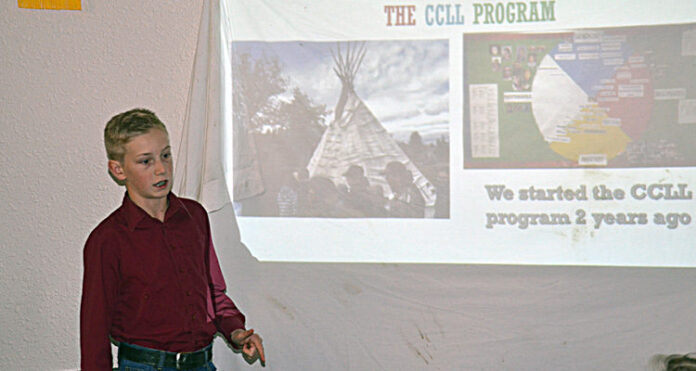 by Phil Ambroziak
If there's one thing Dorintosh Central School still has a lot of, it's hope.
With enrolment down to approximately 23 students this academic year, efforts on the part of the school community council have picked up in terms of encouraging more parents to send their kids to class in the tiny community just north of Meadow Lake. Part of these efforts included an information night Tuesday (Sept. 25) at the Lions Den in Meadow Lake to showcase the unique programming offered at Dorintosh Central, and – in spite of a non-existent turnout from city residents – the presentation went ahead as planned.
"We're a Kindergarten to Grade 8 school, so 23-25 students is not a lot," remarked Dorintosh Central School SCC president Carolyn Nolin when contacted prior to Monday's gathering. "We've been struggling with enrolment for a couple of years now to the point we are now down to only three teachers. We don't want the school to close, so we're trying to do whatever we can to keep our doors open. The SCC has really been advocating for this and trying our best to keep things going."
Monday's information night was designed to allow anyone who chose to attend an opportunity to learn about the unique, hands-on learning students at Dorintosh Central have been a part of since last year. Known as Culturally Courageous Land-based Leadership, the program is student-controlled and student-developed, while at the same time follows the First Nations circle of courage by instilling a sense of belonging, mastery of skills, independence of skills ad the ability to share that knowledge with others. Shortly after the program was introduced, principal Michael Radford said outdoor education can be linked to any and all traditional subjects including English, math, science, physical education and more. Nolin, meanwhile, said the SCC is targeting children from Meadow Lake and area who are currently being home schooled as possible candidates.
Among those on hand for Monday's information night was Tanya Fisher. She used to home school her son, Seth, but this year enrolled him in Grade 4 at Dorintosh as a way of helping him overcome a learning disability and to improve his reading and writing skills.
"I heard about what was going on at Dorintosh Central School and I spoke with Mr. Radford about it," Fisher said. "We stayed in touch and took part in a mapping meeting where we discussed our hopes and dreams for Seth… it was the first time in my experience we had ever been taken in and made to feel what we felt mattered. It definitely is a place where he feels belonging and acceptance. He comes home excited about the things he's doing… the school has been very welcoming and the staff is just so involved with all the kids. To me, having smaller classes is a huge advantage."
Because the Fishers reside west of Meadow Lake, however, they are required to drive Seth to and from school every day.
"I was really hoping there would be one other family so we could car pool and take turns, but that didn't happen," she said. "At the end of the day, though, he's having such a great experience, he's loving it and, realistically, for a good education, isn't that a small price?"