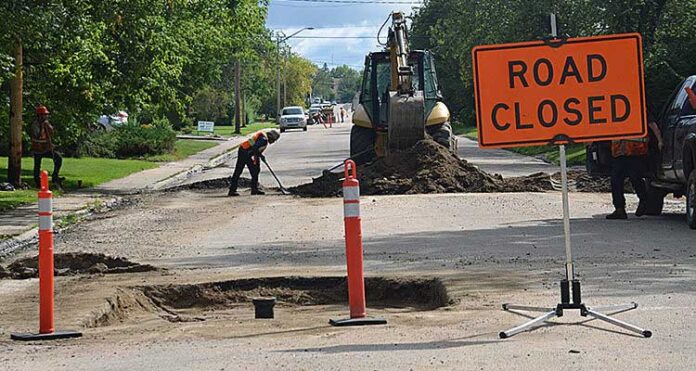 by Phil Ambroziak
When it comes to future paving projects, the City of Meadow Lake would like to have its planning efforts set a little more in stone.
During last Monday's (Sept. 10) regular city council meeting, a decision was made to add up to an additional $65,000 to this year's paving budget so, come 2019, projects can potentially be tendered much earlier than they were this summer.
"Council had asked how we could make sure paving starts earlier in future years," explained city clerk Jessica Walters. "One of the ways we are going to do this moving forward is to budget for the pre-tender planning to be done in the preceding fall."
For example, Walters added, next year the city will budget to do the planning work for 2020's paving and so on and so forth.
"This wasn't done last year, and so the engineering department requested council approve the additional $65,000 for this year's budget to conduct the work for next year's paving this fall," she continued. "This includes inspecting sewer lines to see if they can be paved over, or if they need to be replaced or relined first. It also includes testing sections of the road where the sub-base appears to be failing to determine how deep the pavement replacement will need to be."
With this exploratory work being done in the fall, the city believes the paving tender can be issued by the end of March next year, which could see paving crews here earlier in the summer.
According to mayor Gary Vidal, it's imperative to get the geotechnical and utility inspections taken care of before beginning any paving projects because of the need to know exactly what's going on beneath the city streets.
"Nobody loves to see paving done one week and then a big hole dug in the same spot the next week," Vidal said. "It's a matter of putting the cart and the horse in the right order so to speak."
While the necessary prep work was done prior to this year's paving, it didn't start until this spring and, as such, contributed to the late paving season which didn't get underway until mid to late August. Recently, former city manager Richard Levesque criticized this when he wrote a letter to council scolding them for what he described as an inability to practice and promote ideal beautification efforts. Levesque noted in his letter, visitors and residents alike had been driving over dusty gravel patches for three-and-a-half months because the city's pavement repair contract was tendered late.
"… even though, I presume, it was already budgeted for last year shows a lack of planning," he wrote.
Vidal, meanwhile, said budgeting for preparation work to be done early could alleviate such concerns.
"There are no guarantees because we're still at the mercy of the paving companies' schedules," he said. "But, hopefully it will allow work to begin closer to spring. We're not spending more money – we're just spending what we would normally would in the spring and instead we're spending it in the fall."