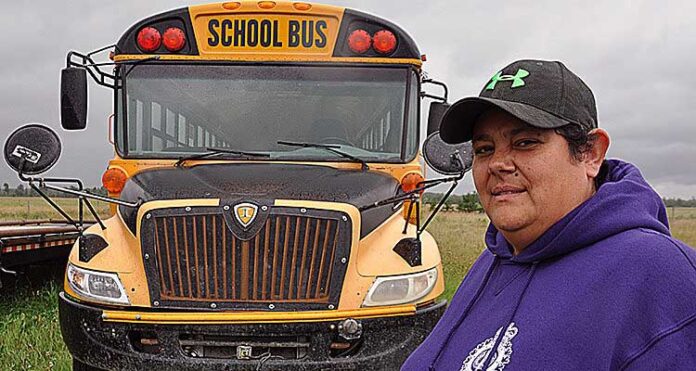 by Phil Ambroziak
After more than two months of inactivity, the wheels on the bus are about to go round and round once again in Meadow Lake and other parts of the Northwest.
Students are scheduled to return to class next Thursday (Sept. 1) and in the weeks leading up to the big day, the Northwest School Division has been working hard to make sure school buses are ready to roll out at the right time.
"Throughout the entire school division, we have 101 routes, which means we have 101 route buses," explained NWSD supervisor of transportation Jacquie Taylor. "In addition to this, we also have 41 spare buses. Throughout the summer, we get most of our buses into the shop for annual inspections and to perform any preventative maintenance. We also check the brakes and look over the tires, as the safety of our students remains number one."
The work also encompasses the three in-town, two pre-Kindergarten and 15 rural buses that ship students to schools in and around Meadow Lake.
"The number of buses serving the Meadow Lake area has not changed this year," Taylor continued.
Meanwhile, among the many drivers eager to get back on the road, is Tina Lavallee. She drives a rural route in the Rialto Road area and said she can't wait to see the smiles on the faces of her passengers when the first day of school arrives.
"When they leave at the end of June, it's always a happy day," Lavallee said. "But I do look forward to seeing them again."
As commanding officer of Meadow Lake's 520 Royal Canadian Air Cadet Squadron, Lavallee has also been working as an instructor at a training course in Cold Lake for the summer. Because of this, she hasn't been able to get her school bus ready until her return to Meadow Lake this week.
"Once back, I'll be pulling the bus around from my backyard into the driveway where I'll check all the fluids, check for any leaks or broken lines and make sure all the seats are secured," Lavallee noted. "I love being a school bus driver and, having the kids back each day, will bring a lot of joy. It's always a lot of fun."
While the number of buses remains the same for the immediate area, according to Taylor, some minor route changes will come into affect next week. She said the odd bus may take a slightly different path than some riders are used to. She also reminds Carpenter High School students buses will no longer pick up and drop off students at that location.
"We will still accommodate any students living in the far-east corner of Meadow Lake," she added. "Meaning, we will have a bus stop for them, but they will be dropped off at nearby Jonas Samson Junior High and will have to walk from there."
The decision to no longer offer a bus service at CHS was made last school year in accordance with expanded no bus zones for students living in town.
"There were only about 40 CHS kids in total who rode the buses anyway, and it was always hit and miss in terms of how many would actually ride on any given day," Taylor said. "This allows us to address overcrowding, while kids who live close by can walk to school. It's just a matter of trimming things up a bit."
Taylor also reminds motorists to be on the lookout for school buses.
"The stop arms and stop lights will be back on, so it's important to watch out for these – especially in town," she said. "Be courteous when the buses are loading and unloading students, and always watch your speed."