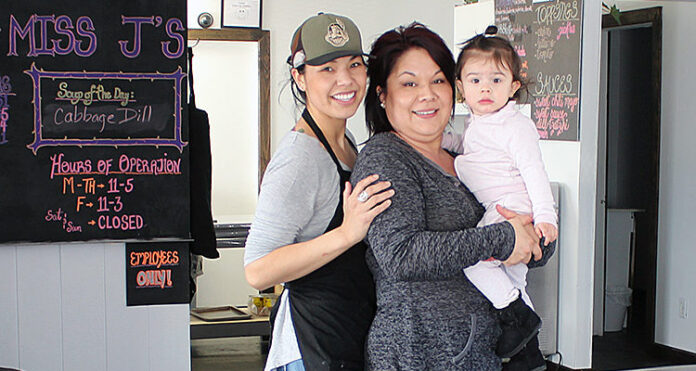 by Derek Cornet
A mother-daughter duo have entered the restaurant scene with a new beef donair shop on Flying Dust First Nation.
Miss J's Eatery has only been open a couple of weeks now, but co-owner Glenda Wuttunee said customers have been steady. She operates the restaurant with her daughter, Jessie Wilcox, and named the company after Wilcox's daughter, Jade Rose.
"We're getting a lot of people calling and so many people coming back and telling us it is so good," Wuttunee stated. "We decided to serve donairs and we're finding it to be a real hit. We're just in the middle of getting signage ordered."
She went on to say they decided to sell donairs for two reasons. First, there are no other donair restaurants in the area and people aren't as familiar with the product as they are with other foods. Wuttunee also believes truckers are looking for hot sandwiches and the eatery's location along Highway 55 East makes it ideal for those diners.
The duo also made renovations to the building without assistance other than help from family members. Wuttunee noted, the space received an entire facelift and she hopes it becomes a hub for the community.
New drug store opens doors
Customers will see a familiar face at a new pharmacy at 120 Centre St. in Meadow Lake.
The Medicine Shoppe opened March 6 with franchisee Geoff Barton offering full services including prescription and over-the-counter drugs, as well as injections. Barton said company officials reached out to him with the idea of opening a pharmacy and are confident it will be successful.
"The numbers definitely supported adding another pharmacy to the area, especially a place like this that's not a big retail store," he stated. "It's professional services only."
Barton went on to say the space was also completely renovated in the span of a few months with major changes such as new paint, flooring and decor. He also plans to hold a grand opening with a ribbon-cutting ceremony scheduled for April 5.
"It will take some time to build the business up, but it's always a slow build with a pharmacy," Barton commented. "I know what benchmarks I need to hit before I can start bringing on staff. For the time being, it's pretty easy to manage by myself."
Bargain Shop to become Red Apple
Following a Canada-wide trend, The Bargain! Shop in Meadow Lake will be transformed into a Red Apple.
"It's exactly the same store, just a different name," general manager Pauline Gervais stated. "The whole layout of the store will be totally different, though. The gondolas (shelving units) will run in a different direction."
Sections of the store are currently being blocked from the public while a construction crew replaces flooring. Hours of operation will stay the same during the renovation and Gervais is excited for the fresh, new look. She expects the store will retain its loyal customers.
"It will be nice once everything is done and switched over because it's just chaos right now," Gervais continued. "Some people come in and don't want to look around because it's such a mess. We try to help them out as much as we can."
Gervais went on to say sales haven't been affected with the changes, stating Easter sales have been strong. A grand opening is scheduled for April 29.