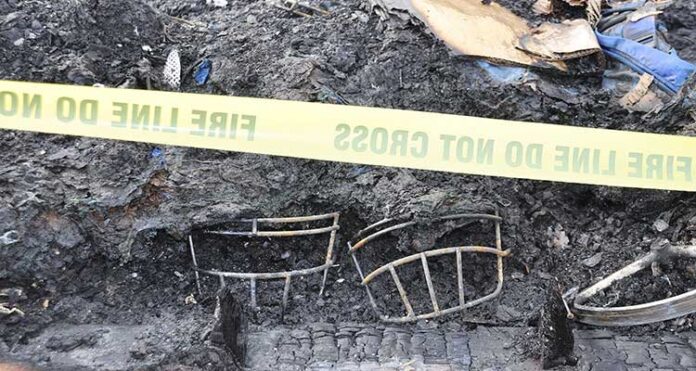 by Phil Ambroziak
The Carpenter High School Spartans football team is not about to let its legacy go up in smoke.
"We will build back up – that's not even a question," remarked long-time CHS coach and current team manager Craig Paylor in the wake of an early morning fire Nov. 6 that destroyed the team's equipment shed. "There will be spring camp in May and there will be football again next season."
New gear will be needed before then, however, as the fire not only consumed the shed, but all of the contents stored inside. While he was unable to place a monetary value on the equipment that was destroyed, Paylor said the loss is substantial.
"Everything was in there – helmets, shoulder pads, game jerseys, cleats and all our game day practice pads," Paylor said. "There was so much in there."
Meadow Lake Fire and Rescue received the call just after 6 a.m.
"There were two sheds adjacent to the school – a small one and a bigger one," explained fire chief Neil Marsh. "The fire started in the small shed. There were a lot of materials stored inside, so the fire grew quite intense and spread quickly. The exact cause is unknown, but it is deemed suspicious."
The fire crew left the scene around 8:30 a.m. while Marsh and deputy-fire chief Joe Grela returned later that morning to conduct an investigation. As of press time, the Meadow Lake RCMP were also still investigating the incident.
"All I can say at this point is all accidental causes have been ruled out and there's a strong chance it was a set fire," Marsh noted.
This revelation made the news even more difficult for Paylor and others involved with the football program to accept.
"I received texts from at least five or six former players who wanted to share their worries and their frustrations because they'd built a lot of memories there," Paylor said. "That's what football does – it creates a lasting effect on these kids. That shack was part of their legacy and what they shared."
Current Spartans head coach Sam Dawson agreed, noting it was surreal to witness the incident unfold before his eyes.
"I'm on the fire department, but the app we use for dispatch wasn't working for me that day," Dawson said. "I was told the news by my vice-principal Jesse Shakotko and am relieved I didn't get the call to respond. If I did, it would have been a difficult call to deal with. It's sad to see the hard work of so many people go down the drain."
In spite of this, Dawson also remains optimistic the team will be back next season.
"I also like to think whoever is responsible didn't know the overall impact their actions would have," he added.
The school does have insurance, but exactly what will be covered remains to be seen. Paylor said students and the community have come forward offering to raise funds and to provide whatever other support they can to help the team recover.
"People are telling us not to worry, but I say let's wait to see what happens with the insurance company and then we'll know where to go from there," he stated.
The equipment shed was built close to 15 years ago.
"It was the community that helped build the shack originally," Paylor continued. "Close to $50,000 was raised by local businesses and other community groups, while the school provided great support too. Everyone really bonded to help build the CHS football program and I know the community would be there again if we need them."
Meanwhile, Marsh said Friday's fire is a good example of how quickly fire can spread from one building to another, and how even a small shed fire can cause the destruction of a larger building.