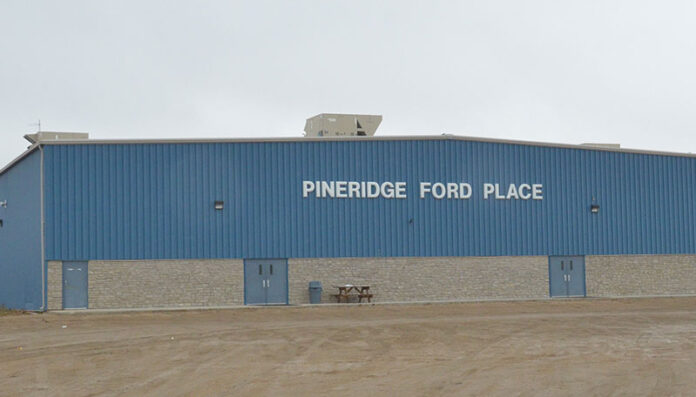 Clay Debray understands the importance of giving back to the community.

Recently, Debray – manager of PineRidge Ford Place on Flying Dust First Nation as well as the onsite Snipe and Celly Pro Shop – donated $4,000 to Meadow Lake Minor Hockey. This is the third year the arena and pro shop have made a significant contribution to minor hockey and it's something Debray said will continue year-after-year when it comes to a number of local sports organizations.

"Meadow Lake Minor Hockey is our number one customer when it comes to both the pro shop and the arena," Debray stated. "And, the story behind the pro shop is it was built for the purpose of being able to give something back to these types of community organizations."

In 2018, Meadow Lake Minor Hockey received $3,000, while the $4,000 donated this year mirrors the same amount given to minor hockey in 2019.

According to Meadow Lake Minor Hockey president Jace Andersen, the donation from Snipe and Celly will mean huge things for local athletes.

"Often it's used to purchase year-end gifts for our players or is put toward our annual banquet," Andersen said. "This year's banquet was scheduled for April, but has since been cancelled because ofthe COVID-19 pandemic. It will now be dispersed to each team and it will be up to them to determine how they would like to spend it. It's definitely not something we expect to receive each year, but it's very thoughtful of Clay to do this and to want to give something back to the kids."

Debray said it's only right to help community sports associations.

"The big thing is just to be able to give back, and to continue to build even more partnerships with other organizations such as minor soccer and minor baseball," he said. "To be able to supply this funding also helps these groups to keep costs down.

When it comes to any of these programs, affordability can often be an issue for some families. If we can help keep overall costs down, it's only going to benefit our local youth. It's a win-win for everybody."

Meanwhile, Andersen said the scholarships and awards – including Coach of the Year, Volunteer of the Year and Lifetime Achievement – handed out at the banquet each year will still be distributed to this year's winners. It just won't happen in the traditional banquet setting.

"We don't have any details yet, but all the awards that are supposed to be handed out this year will still be handed out – we're just not sure where or when this will happen," he concluded.

by Phil Ambroziak